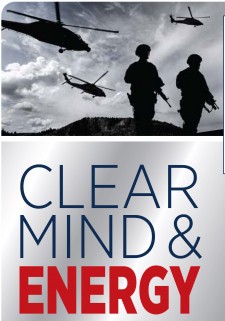 A natural-liposomal nootropic product that delivers clean energy and clarity.
ENCINO, Calif., September 13, 2017 (Newswire.com) - Dynamic Health Products (DHP), a supplement company founded by a Naturopathic and Allopathic father-daughter team, has released Clear Mind & Energy (CME) which was developed to address the chronic fatigue that is present in nearly 100 percent of individuals with traumatic brain injury (TBI). Our initial test population included our heroes returning from Iraq and Afghanistan who now number over 410,000 with symptoms of fatigue and cognitive impairment.
In the past three years, Clear Mind & Energy has been tested in veteran, active military and civilian populations with results that out-pass and out-last the top three energy products. Clear Mind & Energy does not add caffeine, sugar, or any artificial coloring or flavoring. The six components are natural, non-GMO, Gluten-free and suspended in a liposomal matrix for maximum absorption. Compared to other forms of energy drinks or shots, one teaspoon of Clear Mind & Energy in the morning, 15 minutes before food or drink has been documented to last up to 9 hours without crashing.
This stuff is amazing - Clear Mind & Energy! I work a graveyard shift and taking this before I leave, allows me to not only power through the rough hours in the early morning, but keeps me as sharp in hour nine as I was in hour one. Plus there are no jitters or side effects like after an energy drink.

Jim S., Police Dept, Colorado.
Civilians, health care workers, police, sports enthusiasts, and active military have used CME daily without the loss of effectiveness, jitters or a sense of crashing. Many of those using CME have also found that they were drinking less coffee or stopped coffee altogether.
Dynamic Health Products (DHP) released Clear Mind & Energy in March 2017 to a group of over 500 Special Forces. Clear Mind & Energy has been approved for promotion and distribution by the Warrior Angels Foundation, a 501(3c) organization. The proceeds from Clear Mind & Energy are donated to the Millennium-WAF TBI Project which supports the diagnosis and treatment of our veterans with TBI (PTS). Companies interested in helping with distribution can contact us off DHP. Clicking any of the links on this page will provide you with more information.
If there was a healthy, lasting form of an energy product with added mental clarity that would not lift you up just to drop you on your head, it would be called Clear Mind & Energy™. Now, available for anyone who needs something more than just caffeine.
Alison M. Gordon, ND, Mark L. Gordon, MD and Andrew Marr (Green Beret, retired) WAF.
Source: Dynamic Health Products.
Share: